Video Management for
Restaurants and Cafes
Our goal is to work with resources you already have, consider your needs, and make improvements.

NSoft Vision Improves Safety and Business Operations
The food and beverage industry is prone to unprofessional IP security setup. The reason, there is a lack of knowledge on how IP impacts multiple aspects of business... after the installation is already finished is where things start to show up. And are harder to fix.

You Keep Your Food & Drinks Safe, We'll Help Keep Your Space Safe
The number one priority is to keep your visitors and employees safe. Fraudulent activities, staff or visitor misbehavior, cash handling - all the problems that occur at your places. You are probably documenting restaurant operations and trying to make sure safety protocols are met. But preventing harm to people and mitigating profit loss could use some advancements.

Maintain workspace discipline (follow when your staff comes and goes)
Import vandals or blacklist visitors and get notified upon the appearance
Get an assessment on your restaurant/cafe blind spots (from our trained staff)
License plate recognition data (centrally and on the location)
Improve The Quality of Your Customer Service, Notably
Your our professional staff is on the first line of making sure your guests' needs are met. We know "video surveillance" is not the first thing you think of when it comes to improving professional customer service. But, certain aspects of Vision can sure help to ensure a happier workspace.

Monitor the dress code following
Organize your staff based on the data
Get notified when VIP customers arrive
Control display for cashier place (prevent frauds)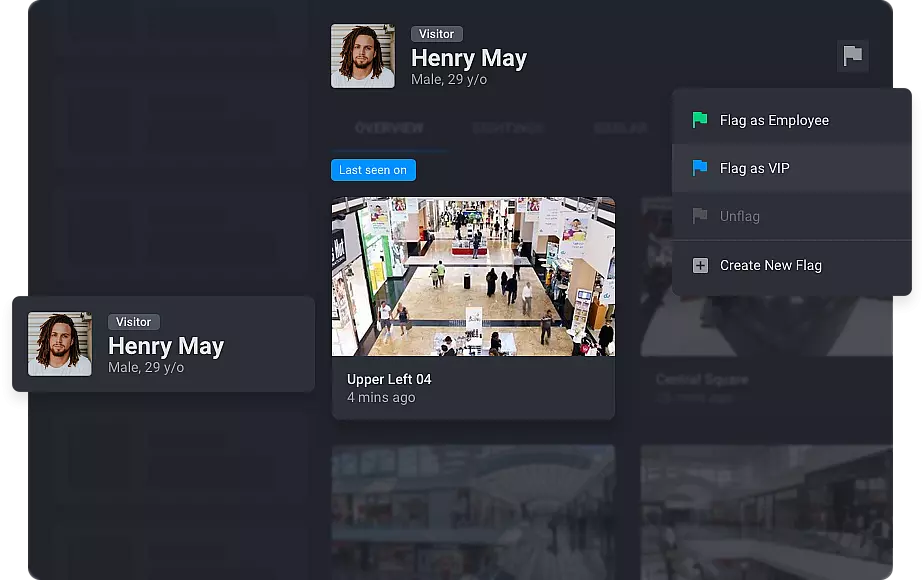 Integration with Admin Panel
Why Use Our
Hybrid-cloud Solution?
Remote Viewing - Easily monitor multiple locations from anywhere. Access your most important information on the go.
Lower Expenses - Cloud solution provides significant savings to your business by more efficient use of computing resources
Keep recordings safe - Local recording storage on Vision LVS for high-security standards. Video clips only go via the internet when remotely demanded.
Adaptive Growth & Scalability - Grow the number of locations more easily and scale without large investment.

Worried About Installation or Maintenance? Don't be.
Our in-field trained technical staff is there to assess your needs, existing infrastructure & IP demands, and inform you about eventual corrections if there should be any.
Installation is easy and fast - so much it can be performed by an untrained person in less than 30 minutes.
Regardless, our professionals are there to provide 24/7 support and handle the installation.


Support for over 1500+ IP cameras (system works with almost any IP camera)

NSoft Vision works with your existing industrial, heavy-duty, thermal, and LPR cameras

Intuitive and step by step installation for cloud solution (20 minutes per server)

A self-hosted solution is installed on your servers with our full sysadmin support

The system is scalable and consistently updated remotely or on the spot

All features are released automatically without any software versioning

User-friendly interface
Two Key Areas
of Analytics
It Is Like Google Analytics For Your Restaurant or Cafe
Bringing data into your spaces is not easy, especially if you don't want to interrupt business as usual. NSoft Vision offers extensive reporting based on historic data. What is more, all the data is presented in a single intuitive dashboard. Anything from visitor demographics to traffic numbers, your retail could have the same analytics as your website.

Preview traffic numbers, new and returning customers
Heatmaps to understand hot zones (where visitors spend the most time)
Age and gender distribution
Watch Your Visitor Traffic Numbers In Real-Time
Efficient business operations depend on the ability to read the data live. Real-time reports show you the current number of people in front of a single or selected group of cameras or locations. A map view allows you to see the visitor numbers displayed geographically.

People count data is refreshed every 5 seconds
People counting works without face recognition
Map view with a displayed number of people on each location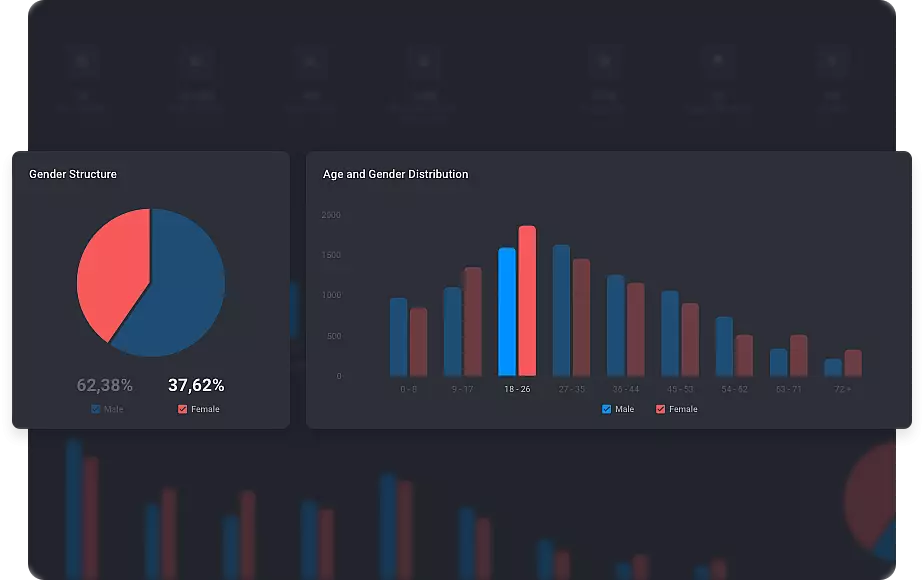 Reassurance
Your Cashier Should Have a Limited View
(But should still be able to react to incidents...)
Our hybrid-cloud solution is flexible in regards to user permission. Since nearly everyone involved in safety will be using the system, we wanted to keep it flexible. Meaning, you choose user rights for each user within the system.
Our user management allows your super admin to manage holistically. What different users see, what they can edit, and what spaces they have access to. One extra thing… a Control Display.
A special live view that brings an extra eye directly to your staff on location. A display your cashier or security member at the location will be able to monitor and react in accordance with it. It's a custom-made display that will show and alert your personnel if any important events occur.